10% OFF – USE COUPON CODE: MERRY
Wishing you joy at Christmas and prosperity in the coming year. Thank you for being such an important part of what we do. We appreciate your business and look forward to continuing our service to you in the coming year.
---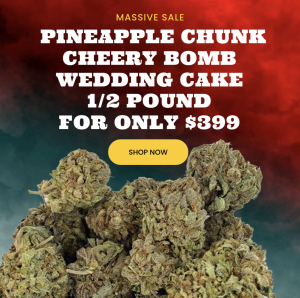 PINEAPPLE CHUNK
CHERRY BOMB
WEDDING CAKE
HALF POUND $399
POUND $799
---
Explore our latest additions to our shatter line. We have some exciting, super strains available now for purchase. We have added more Sativas, Indicas and Hybrids so you can enjoy and explore the amazing world of THC concentrates.