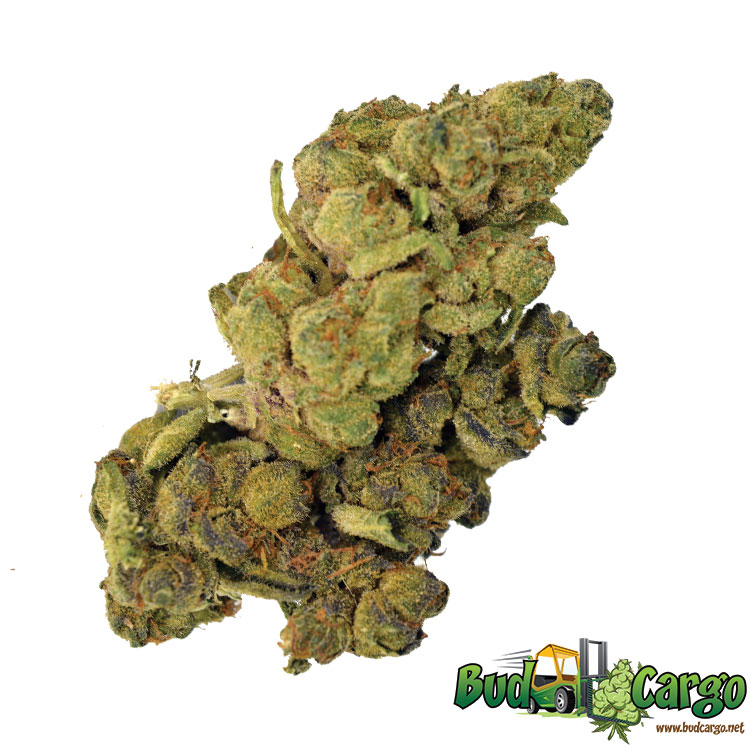 Apple Fritter – Oz Deal
Apple Fritter, also known as "Apple Fritters," is a rare evenly balanced hybrid strain (50% indica/50% sativa) created through crossing the classic Sour Apple X Animal Cookies strains. Best known for making the High Times' 2016 "World's Strongest Strains" List, this baby brings on a hard-hitting high and super delicious flavor that will have you begging for more after just one taste.
This bud has a super sweet fruity apple flavor with a lightly cakey vanilla exhale that's just like a delicious fresh-baked apple fritter. The aroma is very similar, with an herbal effect to it, too. The Apple Fritter high starts almost as soon as you experience your first exhale, filling your mind with a rushing lift that pushes out any negative or racing thoughts almost immediately. As your cerebral state flies higher and higher, a tingly body high will wash over you, relaxing your aching muscles and leaving you feeling totally at ease with the world around you. In combination with its super high 22-28% average THC level, these effects give Apple Fritter an edge in treating those suffering from conditions such as insomnia, chronic pain, depression, mood swings and chronic stress.
This bud has spade-shaped dark olive green nugs with deep purple undertones, vivid orange hairs and a coating of tiny white crystal trichomes.
&nbsp
Estimated Delivery:&nbsp
Dec 09 Dec 13
&nbsp
people
are viewing this right now
Description
If you enjoy having dessert for breakfast, you probably love apple fritters.
If you want an intensely sweet, euphoric strain, you'll love Apple Fritter weed.
This mysterious but beloved strain provides a euphoric experience that results in intense creativity.
On the other hand, the body buzz is deeply relaxing, so most people wind up working on things that can be done from the couch.
The Apple Fritter strain is the incredibly powerful blend of Sour Apple and Animal Cookies.
Lumpy's Flowers, the original breeder, has kept most information tightly under wraps.
They state that it's an indica-dominant hybrid, which makes sense considering its effects and genetics.
The THC level of this strain is where it shines – concentrations average 28% to 32%.
Apple Fritter weed is useful therapeutically. The sheer intensity of the high is perfect for calming issues that nothing else can touch.
Anxiety and depression yield to the immediate euphoria, while chronic pain disappears.
The intense THC content means that Apple Fritter kicks in immediately. Some users notice the high on their first exhale.
The onset of the head high is a wave of bliss that can almost feel overwhelming.
The creative thoughts it causes will keep users entertained for hours, especially if they have friends around to talk with.
Worries are completely blown away by this strain.
Next comes the body high, which kicks in shortly after that. It's relaxing and deeply soothing, which makes it a great way to spend a lazy evening.
The sheer intensity of the relaxation does lead to some mild sedation, and some users find that they drop off to sleep as the high winds down.
Overall, it's a delicious experience that allows users to spend hours flying high and completely relaxed.
For an even more euphoric strain, there also's Apple Fritter's descendant, the cherry fritter strain.
It's a blend of Cherry Pie and Apple Fritter that's known for its sweet flavor.
The rich aroma of this marijuana strain is derived from phellandrene, D-Limonene, caryophyllene, and β-Pinene.
Aroma & Flavor
Apple Fritter is a sweet, earthy strain that's strongly apple and fruit dominant.
The Animal Cookies genetics lend a sweet, vanilla, and cake note as well that makes this smell like a baked treat.
The Apple Fritter strain flavor is one of the most delicious on the market.
It's sweet, fruity, and tastes just like baked goods.
There's just a hint of cheese, helping to round out the pastry into a delicious cream cheese apple fritter flavor.
Apple Fritter is powerful, making it ideal for therapeutic use.
The incredible potency of this strain leads to a euphoria that few other strains can match.
Whether users face depression or anxiety, the bliss from Apple Fritter will give them some respite.
Depressed and dark moods simply don't stand up to the strength of Apple Fritter.
This strain is also helpful for PTSD and OCD, disorders that lead to repetitive, anxious, and unpleasant thoughts.
Apple Fritter obliterates those thoughts completely and makes it just about impossible to continue worrying.
Instead, they are replaced by creative thoughts and a relaxed, blissful state.
Chronic illness and chronic stress tend to lead to physical symptoms of tense muscles and tension headaches.
The Indica genetics help relax the body, while also adding anti-inflammatory properties.
For those with insomnia, that relaxation can help them drift away into dreamland.
Refer a Friend
Please register to get your referral link.
Referral Program
For each friend you invite, we will send you a coupon code worth $25 that you can use to purchase or get a discount on any product on our site. Plus your friend will get $25 OFF coupon automatically applied to their cart if they visit our site via your referral link. Get started now, by sharing your referral link with your friends.
Your Referral URL:
https://budcargo.net/product/apple-fritter-oz-deal/
Click to copy