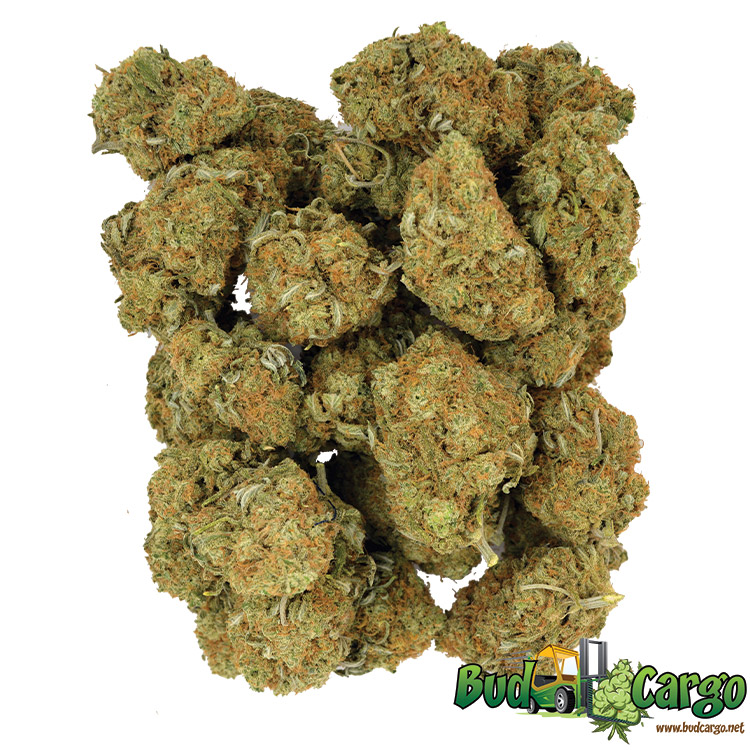 Cali Bubba – Wholesale
The Indica dominant hybrid, Cali Bubba Smalls is a crossbreed between Bubba Kush and Cali Kush: it delivers an aroma profile with hints of sweet hash and candy-like fruitiness from its parent strains. The tight buds showcase orange hairs as well as green highlights that have been outlined in white frosting-like sprinkles to complete this aesthetically pleasing strain's vivid appearance.
It's a well-known fact that this strain contains about 70% Indica, with THC levels averaging approximately 24%. It may be ideal for late night or early morning use if you're looking to ease muscle tension and spasms in your body while creating an uplifting euphoric happy state. This can also help those suffering from depression as it relieves their stressors by delivering peace of mind!


&nbsp
Estimated Delivery:&nbsp
Dec 03 Dec 07
&nbsp
people
are viewing this right now
Description
A potent member of the OG family, Cali Bubba is a must-try for hybrid fans.
Cali Bubba flowers have a chunky appearance and adhere in dense formations typical of indica varieties. The leaves are bright spring green, with orange pistils that twist through them when grown at colder temperatures during vegetation due to an anthocyanin pigment stimulation called "colour changing." The already-colorful flowers are capped off by a coating of translucent white trichomes.
When properly cured, the flowers of Bubba carry the sweet aroma of berries and citrus. On closer inspection there are also base notes of hash that come from its two grandparent strains: one being a diesel-heavy Kush meanwhile another hints at incense in their fiery combustion which may tickle some back throats with coughs on exhales before tasting heavily fruit forward once combusted causing for some intense pleasure when eating these flowers raw or burning them as an herbal product.
Cali Bubba hits quickly for an indica-dominant strain. Soon after they've finished coughing, smokers feel a sensation of warmth and comfort enveloping the core and limbs. This weighty feeling may lead you to lounge in your closest cushy surroundings while its pleasant physical effects are met with waves of euphoria that causes one's desire to just want to share these good vibes with familiar friends or family members. Cali bubbas make external stimuli seem more significant than usual; color can become not just more saturated but taste might also take on new dimensions. While this type of trippy distortion is often associated with sleep, Cali Bubba still allows users to maintain a clear head. In addition it provides the perfect backdrop for processing some atmospheric music or television thanks in part from its mostly sedative effects that can be conducive towards creative thinking when used at night time as opposed during daytime hours due to its negative side effects: red eyes and cottonmouth.
Cali Bubba's thorough sedation can provide many benefits for medical cannabis patients, such as easing aches and pains. Its physical numbing may also give temporary refuge from the pain caused by conditions like lupus or arthritis that are chronic in nature; together these opathic effects of Cali bubba could relieve depression-induced stress symptoms, while its mood-altering properties would assist those suffering with glaucomatous intraocular pressure–a primary symptom among this patients. Because it comes with a low risk of symptoms such as anxiety and paranoia, this strain can be an excellent choice for those who often get panic attacks or have little tolerance to THC.
Refer a Friend
Please register to get your referral link.
Referral Program
For each friend you invite, we will send you a coupon code worth $25 that you can use to purchase or get a discount on any product on our site. Plus your friend will get $25 OFF coupon automatically applied to their cart if they visit our site via your referral link. Get started now, by sharing your referral link with your friends.
Your Referral URL:
https://budcargo.net/product/cali-bubba-wholesale/
Click to copy