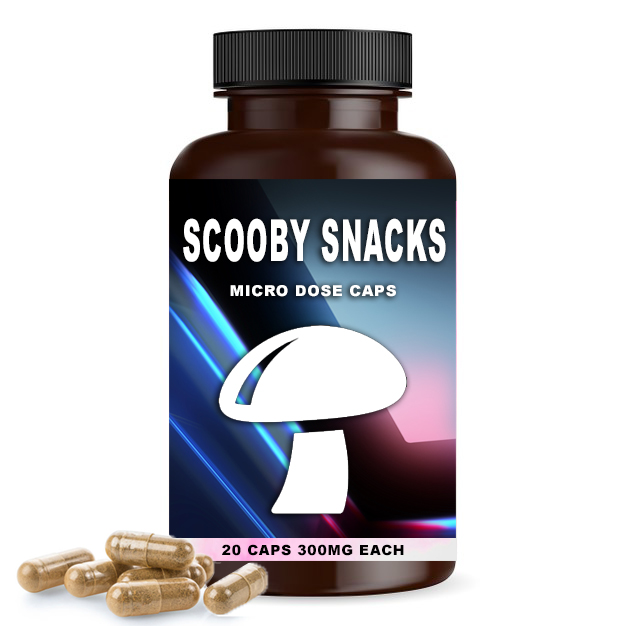 Scooby Snacks – Micro Dose Caps
Buy Scooby Snacks Mushroom Party Capsules
Scooby Snax, Scoobies, or Scoobs are fun little pills that contain psilocybe cubensis, Bee Pollen and Ginseng. This combination of herbs provides a balanced and energetic experience.
We recommend starting with 1 and taking more as required throughout your day or night.
20 X 300 MG PILLS
200 MG GOLDEN TEACHER
55 MG GINSING
15 MG BEE POLLEN
15 MG MACHA
15 MG MUCUNA
&nbsp
Estimated Delivery:&nbsp
Dec 10 Dec 14
&nbsp
people
are viewing this right now
Description
Scooby Snacks Micro Dose Capsules are packed full of holistic ingredients to optimize both your mental and physical health! Not only does each capsule have 200mg of pure Golden Teacher mushrooms to help open your mind, they also contain 15mg of bee pollen which helps strengthen the immune system as well as relieving inflammation. On top of that we've also added 55mg of Ashwagandha to help the mushrooms as they alleviate anxiety and stress and combat depression. We also made sure to include 15mg of matcha, powder made from the leaves of green tea, as its shown to help lower blood pressure and increase mental alertness. Finally we top them off with 15mg of mucuna, often referred to as the 'dopamine bean' , containing 5-HTP to help increase the 'happy' chemicals in your brain.
Magic mushrooms have come a long way over the years. Once regarded as simply a recreational psychedelic, science has begun to unlock the incredible potential that psilocybin, the substance responsible for their 'magic' moniker, has to improve your overall quality of life.
Through micro dosing, small amounts of the psilocybin are introduced to your system, not enough for you to feel high, but instead offering a sense of calm, mental clarity, greater feelings of compassion and gratitude, as well as a more positive and optimistic outlook. Micro-dosing also helps boost creativity and alertness while simultaneously reducing anxiety and depression.
Micro dosing mushrooms is rapidly becoming part of many people's routines, as their ability to improve the users quality of life becomes apparent very quickly.
Recommended Usage:
To achieve the ideal effects, take on capsule 2-3 times a week. Whilst micro dosing typically has no immediate effects, we advise you anticipate subtle changes. Using it too often may result in a higher tolerance. If taking other medications, be sure there will be no negative interaction between them and the psilocybin. If you have experienced, or have a family history of psychosis, do not take mushroom. Many anti-depressants also cannot be taken with 5-HTP, which is one of the key ingredients in mucuna.
Refer a Friend
Please register to get your referral link.
Referral Program
For each friend you invite, we will send you a coupon code worth $25 that you can use to purchase or get a discount on any product on our site. Plus your friend will get $25 OFF coupon automatically applied to their cart if they visit our site via your referral link. Get started now, by sharing your referral link with your friends.
Your Referral URL:
https://budcargo.net/product/scooby/
Click to copy