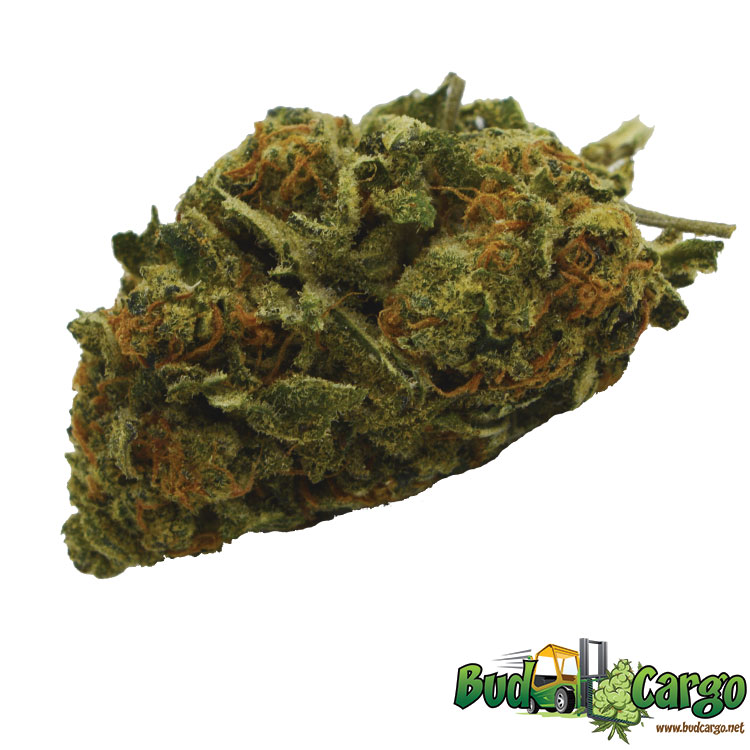 Sunset Sherbert – Oz Deal
Sunset Sherbet is an indica dominant hybrid (85% indica/15% sativa) strain that is a potent cross between the hugely popular Girl Scout Cookies X Pink Panties strains.
This dank bud boasts a mellow THC level ranging from 15-19% on average and a myriad of mild indica and sativa effects. Sunset Sherbet has a delicious aroma of sweet fruity honey and a taste of fruity yogurt and honey with a sweet earthy aftertaste that intensifies as you exhale.
The Sunset Sherbet buds have enormous oversized dense Christmas tree shaped light minty green nugs covered in long, twisty fiery orange hairs. These nugs are caked in a thick layer of frosty white trichomes and are sticky with delicious resin. Users describe the Sunset Sherbet high as having an immediate jolt of uplifted cerebral energy that leaves you social and euphoric accompanied by a full-body relaxing body buzz that leaves you warmed and at ease. The combination of these well-balanced effects will leave you pain free in mind and body as well as having a relaxed carefree attitude.
Due to these potent effects, this bud is ideal for treating stress, pain, and depression.
&nbsp
Estimated Delivery:&nbsp
Oct 07 Oct 11
&nbsp
people
are viewing this right now
Description
The indica dominant Sunset Sherbet strain is a potent variant that was created out of another legendary strain, Girl Scout Cookies.
Sunset Sherbet also spelled as Sunset Sherbert is an appropriately named strain as it is a delightfully flavorful experience. Its solid indica characteristics are further enhanced by its strong and pungent presence.
Sunset Sherbert is a strong and potent almost pure indica strain that carries an unbelievable blend of delicious flavors.
This strain was created out of the crowd-pleaser Girl Scout Cookies, and is an intoxicating hybrid that displays powerful full-bodied effects that promise to sedate you.
This strain is a creative flower that will inspire you to think more colorful thoughts, and is therefore quite popular among artist types.
Sunset Sherbert is a strong and potent smoke that is favored by medical users as well as recreational consumers, because it is a thoroughly positive variant
Sunset Sherbet is a deeply cerebral and fully relaxing strain that will allow you to sink into your chain in a calm state, while still maintaining a clear head.
This indica-dominant variant can be be used to help you focus and spend your day in a clearer state, especially when you use it in a lighter dose.
Sunset Sherbert can make you delve into feelings of euphoria and enlightenment, giving you a pleasurable mental massage that is best enjoyed in the afternoon, when you have time to mellow down and relax.
This strain is highly recommended as an after-work smoke as it can allow you to de-stress much easier.
This indica dominant strain can make you sleepy in higher doses, and is therefore preferred by those who need a little help in finding rest.
Sunset Sherbert is a happy strain and will keep you uplifted, and eventually, it will make you succumb to the munchies, so keep the snacks ready.
This cannabis strain has abundant levels of caryophyllene, and average amounts of D-Limonene, myrcene, β-Pinene, terpinolene and humulene.
Sunset Sherbet is an enticing flower, boasting of aromas you wont soon forget.
This strain contains strong fruity notes, combined with a sweet berry fragrance, and mixed in with a fresh and earthy scent that will leave you wanting more.
Much like its fragrance, Sunset Sherbert has flavors that can only be described as pure bliss.
This strain contains traces of tree fruit and a burst of citrus that will make your tongue tingle on the inhale.
On the exhale it displays strong minty properties that create an enticing aftertaste that will stick to your tongue.
Refer a Friend
Please register to get your referral link.
Referral Program
For each friend you invite, we will send you a coupon code worth $25 that you can use to purchase or get a discount on any product on our site. Plus your friend will get $25 OFF coupon automatically applied to their cart if they visit our site via your referral link. Get started now, by sharing your referral link with your friends.
Your Referral URL:
https://budcargo.net/product/sunset-sherbert-2/
Click to copy