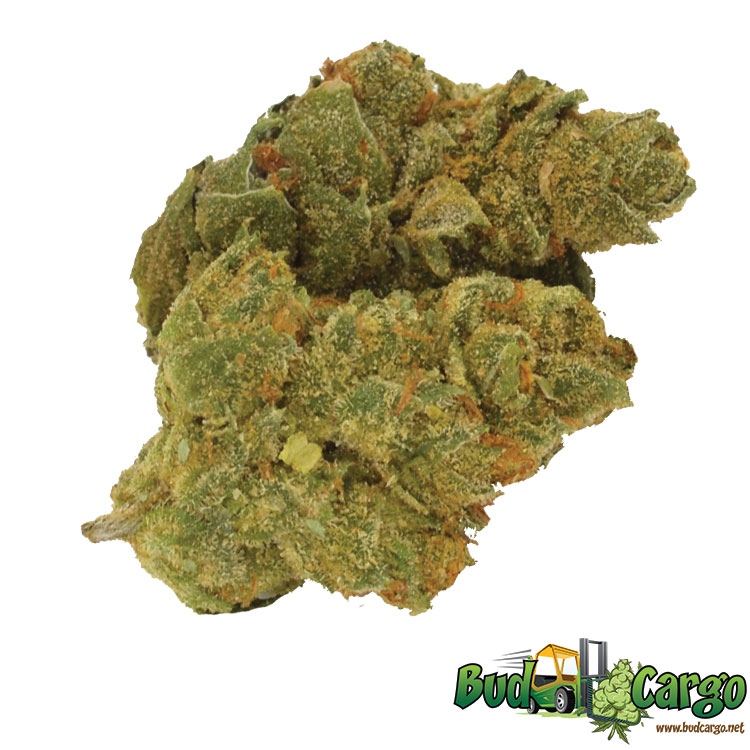 Alien Hallucinations
Alien Hallucination is an evenly balanced hybrid (50% indica/50% sativa) strain created through crossing the classic Tahoe Alien X LSD strains. Get ready for an otherworldly experience – Alien Hallucination packs a psychoactive high that will infuse you with stoney creative visions that are simply out of this world. The high starts with a rushing euphoria that infuses you with a sense of happiness and creativity.
This creative inspiration quickly fades into a hefty stone, pulling you into a sleepy state that's infused with crazy colorful visions and dreams. Even while your mind escapes into your deepest imagination, your body will remain anchored with a mellow relaxing body high that keeps you tethered to reality.
Thanks to these powerful effects and its super high 20-24% THC level, Alien Hallucination is often chosen to treat conditions such as depression, muscle spasms, chronic pain, and tremors. It has a powerfully sweet and tangy citrus flavor and smell with just a touch of earth. Alien Hallucination buds have lumpy bright green nugs with fiery orange hairs, rich purple undertones, and a coating of light amber crystal trichomes.
&nbsp
Estimated Delivery:&nbsp
Dec 10 Dec 14
&nbsp
people
are viewing this right now
Description
Alien Hallucinations does not overwhelm users with a hallucinatory, trippy experience.
Unless, of course, one overuses the strain and its THC levels of 20% to 24%.
In all likelihood, it will lock one to the couch and heighten sensations.
Otherwise, it induces a pleasant uplifting high in moderation.
Alien Hallucinations does indeed bend the minds of its consumers.
Although, not in the way one would assume based from its name. Rather, it elevates the mood and positively affects behavior.
Moreover, it induces a relaxing buzz that tranquilizes pain along with an enticing array of citrus and earth.
The otherworldly strain has the out-of-this-world genetics of Tahoe Alien, an Indica-dominant that carries the body into space.
Meanwhile, its potentially trippy effects are from LSD which have provided many enthusiasts with a mind-opening experience.
Apart from recreation, Alien Hallucinations improves the quality of lives of patients that suffer from a variety of afflictions.
From the get go, it elevates energy levels with a rush of euphoria that swarms the mind and the body.
It provides a mental boost that last for hours. The uplifting buzz inspires a sense of happiness from within.
As such, it is not uncommon for users to smile more or laugh in between conversations.
After about an hour or two, the Indica effects of the well-balanced hybrid manifest.
It is a light pressure in the back of the head that, as it intensifies with each toke, it gradually spreads throughout the body in waves of relaxation.
It kneads the muscles, unties knots, and envelops the body in tranquility.
The strong smell of sweet and tangy citrus emanates from Alien Hallucination's buds.
A herbal essence soon follows that. On the exhale, a dank earthy scent gets given off.
When first tasted, the flavor of sweet lemons hit the palate.
Adding balance are herbal overtones that come with hints of earthiness. On the exhale, a subtle citrusy aftertaste rounds things up.
Presumably, Alien Hallucinations was developed for recreational purposes.
Still, this does not diminish the soothing effects of its head to body high.
Through the combined effects of its cannabinoids, it provides a reprieve to patients against various health issues.
Through its happy high, Alien Hallucination reduces stress and temporarily appeases its symptoms.
Among which are random aches in the body from exhaustion or fatigue along with the feeling of overwhelming dread and self-depreciating thoughts.
In a similar manner, it can be used as an anti-depressant to help manage symptoms of mental afflictions.
A natural painkiller, the well-balanced hybrid also appeases chronic pain beginning from the temples.
Meanwhile, its anti-inflammatory properties reduce redness and swelling in inflamed areas.
Refer a Friend
Please register to get your referral link.
Referral Program
For each friend you invite, we will send you a coupon code worth $25 that you can use to purchase or get a discount on any product on our site. Plus your friend will get $25 OFF coupon automatically applied to their cart if they visit our site via your referral link. Get started now, by sharing your referral link with your friends.
Your Referral URL:
https://budcargo.net/product/alien-hallucinations/
Click to copy