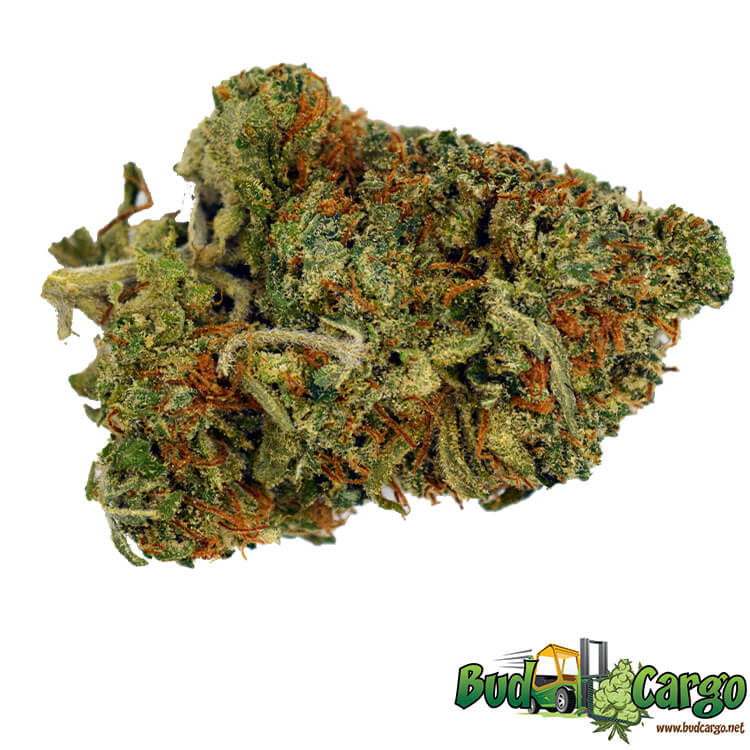 Blue Hawaiian


Sour Diesel, sometimes abbreviated as Sour D, is an extremely popular strain, distinguished by the fuel-like chemical smell of its flowers. It has a mostly sativa head high with some subtle physical indica relaxation, making it popular among recreational and medical users alike. This is a potent strain, with a THC content that had been measured at between 20% and 25%.
&nbsp
Estimated Delivery:&nbsp
Dec 09 Dec 13
&nbsp
people
are viewing this right now
Description
Blue Hawaiian is a hybrid cross between two potent strains: the perennially popular Blueberry and a Hawaiian sativa landrace. This boldly-flavored strain offers a balanced high that combines the best of its relaxing indica and stimulating sativa genetics. Cannabis testing lab Analytical 360 has measured Blue Hawaiian's THC composition at between 12% and 20% with one test reaching as high as 24%.
Blue Hawaiian has small to medium-sized flowers that, once cured, take clumpy, popcorn-like shapes. Leaves are tightly coiled in a dense and heavy bud structure, typical of indica varieties. The leaves themselves are a bright lime green and provide a contrast for fiery orange hairs threaded throughout the flowers. These hairs are actually pistils, reproductive structures meant to catch pollen from fertilizing male plants. In certain phenotypes of Blue Hawaiian, the buds are also streaked with blue and purple hues — these latter colors are the result of high concentrations of anthocyanin pigments (passed on from parent strain Blueberry) that are stimulated by cold temperatures during the growing process. These colorful flowers are dotted with glassy white trichomes, making them sticky and difficult to break up for joints or pipes without the aid of a grinder.
Like its cousin strains xxxx, Blue Hawaiian has a fruity, tropical scent redolent of pineapple and lemon. Meanwhile, a musky blueberry smell hangs out in the background. This strain burns smooth and easy, and its smoke leaves a woody, piney taste when exhaled. Notably, blue and purple-tinged flowers of Blue Hawaiian do not necessarily have a blueberry or grape taste; this is because the pigments that determine the leaves' color does not have any effect on their smell and taste.
Blue Hawaiian has a high that mounts slowly, sometimes taking several minutes to hit users with its force. Smokers may detect a marked improvement in mood, accompanied by a warm tingle that spreads gradually throughout the body. This simultaneous physical and mental relaxation can have psychedelic effects, like visual distortions or the sensation of time dilation. Trippy experiences notwithstanding, users typically feel lucid and able to focus for the duration of the high. As such, Blue Hawaiian can be a great way to complement anything from creative productivity to exercise to sex.
This strain is also valuable for medical cannabis patients. It can soothe chronic aches, pains, and even headaches. It can stoke hunger for those who have lost their appetite to illness or chemotherapy. And although an average high is free from couchlock, in large enough doses, Blue Hawaiian can bring about deep and restful sleep for those suffering from insomnia. Psychologically speaking, this strain can be effective in temporarily blunting the troubling symptoms of stress, depression and anxiety. Its sense of sustained focus can also benefit those with attention deficit disorders.
Blue Hawaiian's long-lasting euphora proves that a strain's flavor doesn't have to come at the expense of its potency. This crowd-pleaser is great at any time of day and can be enjoyed while running errands, hanging out with friends, or simply kicking back at home with some of your favorite music.
Refer a Friend
Please register to get your referral link.
Referral Program
For each friend you invite, we will send you a coupon code worth $25 that you can use to purchase or get a discount on any product on our site. Plus your friend will get $25 OFF coupon automatically applied to their cart if they visit our site via your referral link. Get started now, by sharing your referral link with your friends.
Your Referral URL:
https://budcargo.net/product/blue-hawaiian/
Click to copy