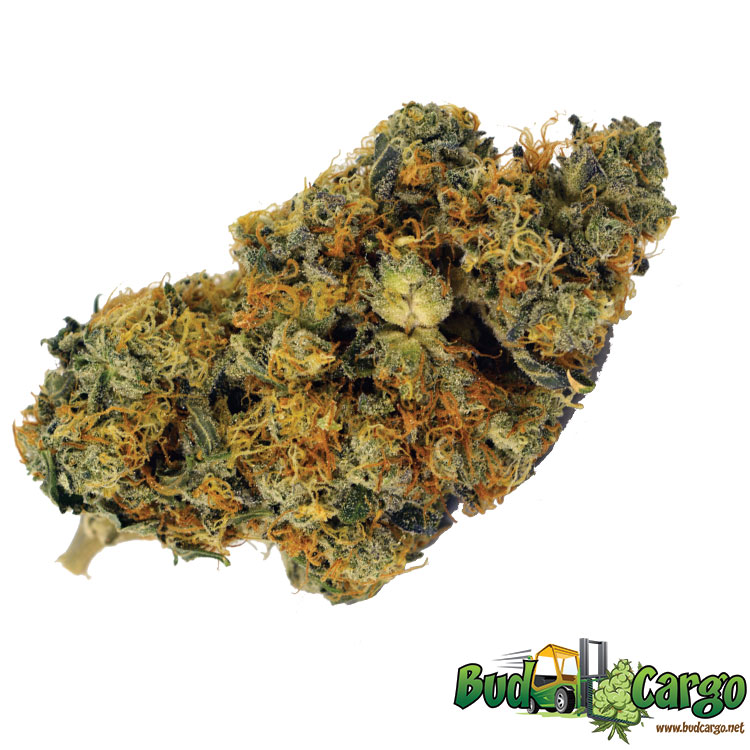 Oreoz – Wholesale
Oreoz is an indica dominant hybrid strain (70% indica/30% sativa) created through crossing the delicious Cookies N Cream X Secret Weapon strains. Named for its super delicious flavor, Oreoz is a great choice for any indica lover who's after a high level of potency and a great taste, too. Like its name suggests,
Oreoz packs a taste that's almost like a cup of Oreo dirt pudding, with sweet yet spicy chocolate and delicious nuttiness. The aroma is very similar, although with a touch of pungent diesel to it, too. The Oreoz high hits you almost as soon as you exhale, slamming into both mind and body with long-lasting effects that will have you soaring for hours on end. The high begins with a boost of cerebral effects, filling your mind with an uplifted sense of happiness that instantly washes away any negative or racing thoughts.
As your mind flies higher and higher and your happiness expands, you'll be slammed with a heavy case of the munchies and a light physical high that helps you relax while you snack. Combined with its super high 22-33% average THC level, these full-bodied effects make Oreoz a great choice for treating those suffering from conditions such as appetite loss or nausea, depression, insomnia, chronic stress and gastrointestinal disorders.
This bud has dense and lumpy bright neon green nugs with deep amber hairs and a coating of matching crystal trichomes dripping with sweet sticky resin from top to bottom.
&nbsp
Estimated Delivery:&nbsp
Oct 07 Oct 11
&nbsp
people
are viewing this right now
Description
What do you get when you cross Cookies and Cream with Secret Weapon? A delicious and potent hybrid marijuana strain named Oreoz (aka Oreos and Oreo Cookies). Though the name may suggest it's little more than a tasty afternoon treat, the Oreoz strain is mouth-watering for more than just its sweet and pungent flavor.
Oreoz THC levels start at 21% with nowhere to go but up. You can say the same about its high, which can sweep even veteran users off their feet.
Parent strains Cookies and Cream (aka Cookies N Cream) and Secret Weapon, both known for their above-average THC content (20% and 22% respectively), would be proud of the heights their descendant has achieved.
Oreoz generally averages 22%-23% but regularly maxes out at levels of up to 33%.
Though Oreoz has inherited much of its tempting flavor and desirable effects, its robust terpene profile plays a prime role in what gives this strain its strong appeal among users.
The terpene profile includes caryophyllene, limonene, and myrcene, along with humulene, bisabolol, and phellandrene.
The combined efforts of this terpene profile are what create a user experience that is enjoyable, therapeutic, and unlike any other. The caryophyllene, bisabolol, and phellandrene are responsible for most of the flavor of the weed.
Between the fragrance, flavor, terpene profile, THC and effects, it's clear that Oreoz is chock-full of that good stuff we seek.
Experienced users who have built up a bit of a tolerance for THC will find themselves feeling like newbies again. The strain delivers a euphoric, hard-hitting high that lasts longer than most. Not that you'll mind – once this one gets a hold of you, you won't want the journey to end.
And neither will your body – it'll be too busy enjoying that pain-free, stress-free feeling that Oreoz brings. Say goodbye to the weight of chronic stress, anxiety, and depression, and hello to happy, creative, and uplifting thoughts. If you're prone to social anxiety, Oreoz will have you talking, laughing, and relaxing in no time.
Oreoz settles into your head and body with equal force, getting more and more potent with each dose. Most users describe it as being a weird combination of relaxed energy.
You're not going to be running any marathons or conquering major to-do lists, but you won't be glued to the couch, unable to think. You'll be calm, relaxed, and at peace but still moderately focused and functional.
Physically you'll feel a tingling sensation throughout your body with a heaviness behind your eyes – a great combination to send you off to sleep (when you're ready). In addition to insomnia and restless sleep, Oreoz is great for stomach issues.
Oreoz has an exquisite terpene profile dominated by caryophyllene. There are a lot of other terpenes that this deliciously-tasting strain contains including phellandrene, α-Bisabolol, humulene, limonene, and myrcene.
Aroma & Flavor
If you're planning on growing this strain, you'll be happy to know that its aroma, while pungent, is alluring from the start. It's a culmination of sweet and spicy earth scents, marked by notes of pepper, herbs, nuttiness, vanilla, and cocoa.
One whiff, and you'll instantly understand why the strain shares its name with the famous cookie. The main fragrance profile of creamy, chocolaty goodness is accented with a punch of diesel to honor the power of the strain.
The strain starts with sweet and earthy notes, pulling you into comfortable nostalgia before delivering a blast of pepper, spice, and diesel. It finishes on a pungent skunky note better suited to a strain of this potency.
To choose from a variety of strains, and to find the right strain for you,  click here!
Refer a Friend
Please register to get your referral link.
Referral Program
For each friend you invite, we will send you a coupon code worth $25 that you can use to purchase or get a discount on any product on our site. Plus your friend will get $25 OFF coupon automatically applied to their cart if they visit our site via your referral link. Get started now, by sharing your referral link with your friends.
Your Referral URL:
https://budcargo.net/product/oreoz-wholesale/
Click to copy