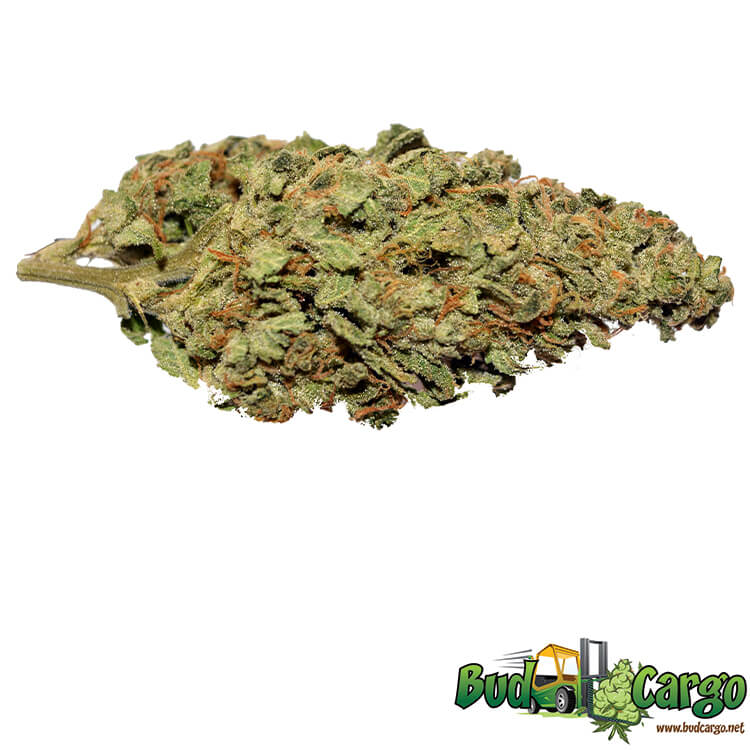 Blueberry OG


Blueberry is a popular, flavor-forward indica hybrid with a strong genetic backbone. It is a three-way cross between an indica Afghani parent and sativa Thai and Purple Thai variant parents. Blueberry was originally developed in the 1970s or 80s by DJ Short, a mysterious but prolific breeder who's been dubbed the "Willy Wonka of pot." Blueberry is distinguished by an unmistakable fresh blueberry smell and taste that have made it an enduring favorite. Blueberry is popular nationwide. It won top marks in the 2000 High Times Cannabis Cup for Best Indica and best strain overall. Blueberry has a THC content that ranges between 15% and 24%.
&nbsp
Estimated Delivery:&nbsp
Dec 02 Dec 06
&nbsp
people
are viewing this right now
Description
Blueberry OG stands out with medium to large buds that have a pronounced cylindrical shape. The nugs are dense and compact, as might be expected of an indica-leaning strain, and the tightly-packed leaves are a pale shade of sea green. Fiery orange hairs — which are actually pistils, structures meant to catch pollen from fertilizing male plants — twist their way through the curly leaves.
Glassy trichomes cover these already-colorful flowers and give the buds a frosty silver appearance.
A zesty orange aroma wafts up from cured buds of Blueberry OG. This citrus profile is accented by a slight berry tang, passed on from Blueberry. A closer inspection yields some notes of incense and hash, pointing to the strain's Afghani and Hindu Kush lineage, while grinding up or breaking open the buds smells distinctly skunky. Blueberry OG burns with a harsh and acrid smoke when combusted that may induce coughing. On the exhale, it has a sharp fruity flavor matched by a slight diesel tang.
Blueberry OG's high creeps up slowly, often taking many minutes after smokers have finished savoring its unique flavor before making itself fully known. Smokers will eventually pick up on a sluggishness in the core and limbs and some heaviness in the eyelids, accompanied by a mounting sense of euphoria. There is some initial mental stimulation that may trigger some free-associative thinking. This cerebral mindset may be good for expansive creative brainstorming as well as for analytical problem-solving. Slowly, the body high intensifies, causing muscular tension to evaporate as deep breathing comes about more freely and easily. This combination of mental and physical effects may lend itself to activities that involve both body and mind like hiking, exercising, and even sex. Eventually, Blueberry OG's indica side fully takes over, conferring full-body relaxation that deepens as the high wears on. In the later stages of the high, smokers may find themselves couchlocked. Because of its taper from productive energy into foggy relaxation, it is best suited to late afternoon use. This strain's effects are said to be strong and long-lasting, even for cannabis veterans.
Blueberry OG may have several applications for medical cannabis patients as well. Its sedative properties can be a balm for aches and pains, whether they're temporary as due to injury or chronic and caused by conditions like arthritis or lupus. In its early set, it may help those with attention deficit disorders to concentrate on any tasks at hand. Finally, this strain's even-handed and mellow vibes can temporarily elevate to ease the symptoms of mild to moderate stress and depression. Because of its relative lack of cerebral intensity, it may be a good choice for those who are prone to panic or who have a lower tolerance for THC.
Blueberry OG's high is versatile enough to enjoy in various settings. It's as enjoyable while kicking back at home as it is in more party-focused scenarios. If you do bring it out in public, bring enough to share, as this strain's dynamic fruity aroma is likely to attract some attention.
Refer a Friend
Please register to get your referral link.
Referral Program
For each friend you invite, we will send you a coupon code worth $25 that you can use to purchase or get a discount on any product on our site. Plus your friend will get $25 OFF coupon automatically applied to their cart if they visit our site via your referral link. Get started now, by sharing your referral link with your friends.
Your Referral URL:
https://budcargo.net/product/blueberry-og/
Click to copy