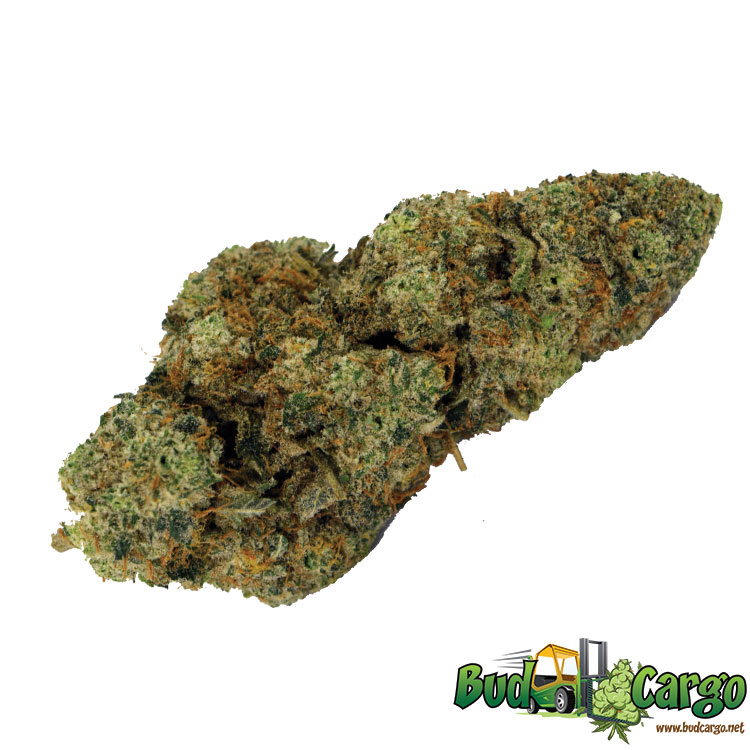 Kraken – Wholesale
Kraken is thought to be a distant member of the Kush family because of its earthy floral aroma. The flavor of Kraken is very unique, with a nutty diesel earthy taste that's accented by sweet florals and a hint of vanilla. Kraken's effects are very upbeat and social, making them perfect for anyone suffering from social difficulties, but not ideal for anyone with a high level of anxiety.
The high starts with a euphoric and focused cerebral rush that leaves you super talkative and outgoing, although you'll have the tendency to fall victim to uncontrollable bouts of giggles at times. This head high is accompanied by a surprisingly relaxing body buzz that envelops your limbs and leaves you slightly sedated while your mind soars.
Because of these effects and its moderate 10-15% average THC level, Kraken is ideal for treating conditions such as eye pressure, chronic headaches, insomnia, and inflammation. Kraken buds have spade-shaped airy neon green nugs with sparse orange hairs and a fine coating of tiny golden crystal trichomes.
&nbsp
Estimated Delivery:&nbsp
Dec 11 Dec 15
&nbsp
people
are viewing this right now
Description
In stories of old, the kraken wreaked havoc upon sailors in the coasts between Norway and Greenland. Its quick tentacles would grab hold of boats and, in one bite, would swallow it whole with its giant mouth. Although this was only a tale of the sea, it inspired a generation of people that went on to continue the legend.
Kraken has the capacity to engulf users with a deep sense of relaxation that can render the body totally immobile. And, rather than being a destroyer, it produces massive yields with its rather intimidating heavy-branching capabilities.
Buddha Seeds has decided to keep its genetics a secret. However, many speculate that its genes contain Ruderalis, Sativa, and Indica varieties that helped bring out its power as a breeding strain.
Its THC, which seldom exceeds 15%, is often enjoyed recreationally. However, it remains a source of comfort on a rather cloudy day.
Kraken is not an Indica-leaning plant. It is a hybrid with equal parts of the spectrum. As such, one would think it is well-suited for any time of the day. Yet, its effects say otherwise.
Rather than the upbeat, energizing onset associated with evenly split strains, it delivers a calming euphoria that gently cradles the mind in comfort. It inspires a happiness from within that, if anything, resembles a self-assuredness that all will be alright.
The mental stimulation carries over to the stomach. It encourages an appetite that heartily matches the mood. Having snacks prepared ahead of time will keep user from having to stand up especially as the Indica high hits.
Enhancing the sensation is its dominating body buzz that, before intensifying, first plants a heaviness from within. It becomes difficult to resist the physical effects with each puff until, eventually, users are enveloped in a deep relaxation that precludes sleep.
Because of its strong hold on the body, it is better to avoid smoking up during busy hours or reserve Kraken on lazy days. Otherwise, users will be forced to adjust the day's activities.
Kraken carries a strong earthy aroma with floral hints that leave one thinking it has been freshly picked from the ground. The pungent fragrance also contains spicy hints of diesel accentuated by pine.
Drawn in, Kraken overpowers the palate with its equally strong flavors of wet soil. Savoring it, however, reveals mild floral undertones that brings with it a tinge of sweetness. On the exhale, the taste of mint enhanced by pine leaves a cooling aftertaste in the mouth.
In delivering its euphoric effects, Kraken clears the mind. It eliminates stress and calms users overwhelmed by problems or tasks at hand.
At the same time, it instills a sense of inner peace that temporarily alleviates symptoms of depression and other mental health issues such as PTSD albeit temporarily. For long-term management, users must still seek the help of a health professional in order to pinpoint the source and finally ease the distress.
The strain's ability to relax the body plays an important role in easing pain. By soothing the muscles, it keeps it from involuntarily contracting which often results in users wincing from a sharp sensation.
It is also this same mechanism that weakens spasms in the stomach, stimulates the appetite, and keep users from vomiting. For this reason, it is a great companion for cancer patients who have difficulty eating or users diagnosed with anorexia.
A natural sleep-aid, Kraken entices users to go to bed a few hours after the high all while feeling completely free of any physical or mental burden.
To choose from a variety of strains, and to find the right strain for you,  click here!
Refer a Friend
Please register to get your referral link.
Referral Program
For each friend you invite, we will send you a coupon code worth $25 that you can use to purchase or get a discount on any product on our site. Plus your friend will get $25 OFF coupon automatically applied to their cart if they visit our site via your referral link. Get started now, by sharing your referral link with your friends.
Your Referral URL:
https://budcargo.net/product/kraken-wholesale/
Click to copy