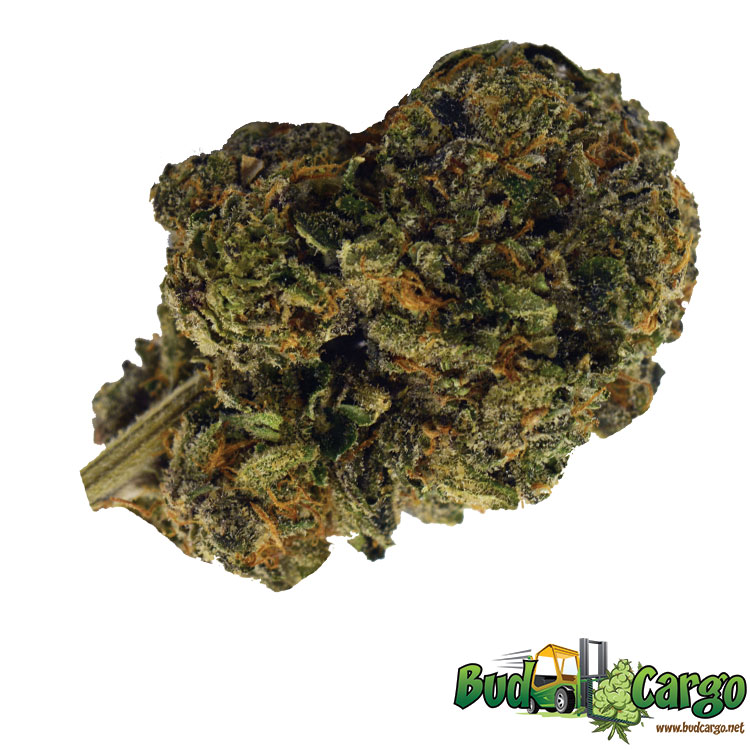 El Jefe
El Jefe is a cross between Rare Darkness #1 and Abusive OG. It is primarily an indica dominant strain with a THC content that falls between 22 and 25%. The buds are colorful with its orange hairs amidst dark shades of green. The buds are dense and large and quite sticky at the same time. The smell is hashy with earthy undertones. However, its taste is nothing like its smell.
El Jefe delivers an exceptional blend of spicy, lemony and pine flavors that will keep you coming back for more after each hit. The strain is known for offering mind relief unlike any other. It may be strong but it is not strong enough to completely knock you out for the rest of the night. Individuals new to smoking cannabis can also smoke the strain as long as they are careful. The high is calming and relaxing and primarily offers a body buzz that calms the senses which may cause you to exhibit symptoms of couch-lock.
You should keep in mind that its effects are primarily beneficial for individuals suffering from crams and muscle spasms. But that is not all, as it is just as effective at treating other severe medical conditions like anorexia, depression, anxiety and ADHD.
&nbsp
Estimated Delivery:&nbsp
Dec 11 Dec 15
&nbsp
people
are viewing this right now
Description
El Jefe is a strain with a name that means "the boss" in Spanish. When you visit the boss, you'll be buzzed and relaxed, with your senses sedated but your mind at ease and awake. The combination of Abusive OG and Rare Dankness #1 creates a powerfully spicy strain that tastes of the outdoors with a hint of citrus brightness. The spicy lemon flavor may get you in the door, but it's El Jefe's unique medicinal applications that will probably make you stay a while, put up your feet, and enjoy the rush.
El Jefe by Rare Dankness Seeds grows with an Indica dominance of 70/30 and produces dense, huge, sticky buds. They grow in dark green shades with depth and color throughout, ranging from deep blues to bright oranges. Growers love the strain because it resists common insect pests, adapts well to different growing locations, and has built-in genetic protection against mold damage. With enough daylight and at least a little humidity, the strain should be ready to harvest in 9-10 weeks, a little longer than usual but nothing too difficult.
Uniquely, the taste of El Jefe is somewhat disconnected from its smell. The strain's aroma is mellow and hashy, caked in earthy scents. By contrast, the taste is an offer you can't refuse, backed by lemon and spicy pine, delivered by the boss to your vulnerable brain. The relief offered by even one drag of El Jefe is infamous. Even those who think they're used to a strain in the THC range of 22-25% say that El Jefe is a hit like no other.
Its ability to calm minds is strong but not enough to make you feel sedated. Instead, you'll be relaxed, buzzed, and potentially stuck to your couch for a while. For people suffering from stress, anxiety, and depression, El Jefe can offer some welcome relief. However, the strain is known for its ability to treat more complex medical conditions as well.
Those who suffer from chronic muscle spasms, anorexia, stomach issues, and ADHD may not feel as though they can get relief, especially after a long week. However, El Jefe can provide solace for these individuals, which, while it may not be a cure for a serious ailment, can at least help those in pain get some much-needed sleep.
This primarily indica strain is a 70/30 cross comprised of Abusive OG and Rare Dankness #1. Its full-bodied, powerful effects paired with its wonderfully classic aromas definitely make it one to try. The aromas of this strain are hashy, with earthy undertones and a slight pungency. However, the smells of El Jefe can be deceiving as the flavor palate couldn't be further from those traits. The taste is a bold blend of spicy lemon and rich pine, sure to engage your senses.
El Jefe is known for soothing the mind and giving the smoker relief from daily woes, and is quite the opposite of what you might think from the name. It may be a strain that lays down the law, but it isn't one that will necessarily overtake you. This calming high thrives in both mind and body and is primarily buzzy in the limbs. This creates a numbing feeling that might get you a little bit couch locked.
If you enjoy a nice wind-down strain that isn't going to knock you off your feet, this is a good one to try. Its genetics alone should tell you that is has a host of medicinal purposes, though that fact isn't its only plus. She offers brilliant flavor with a classic hashy, kush scent with spicy notes and an enjoyable lemony aftertaste.
Refer a Friend
Please register to get your referral link.
Referral Program
For each friend you invite, we will send you a coupon code worth $25 that you can use to purchase or get a discount on any product on our site. Plus your friend will get $25 OFF coupon automatically applied to their cart if they visit our site via your referral link. Get started now, by sharing your referral link with your friends.
Your Referral URL:
https://budcargo.net/product/el-jefe-2/
Click to copy