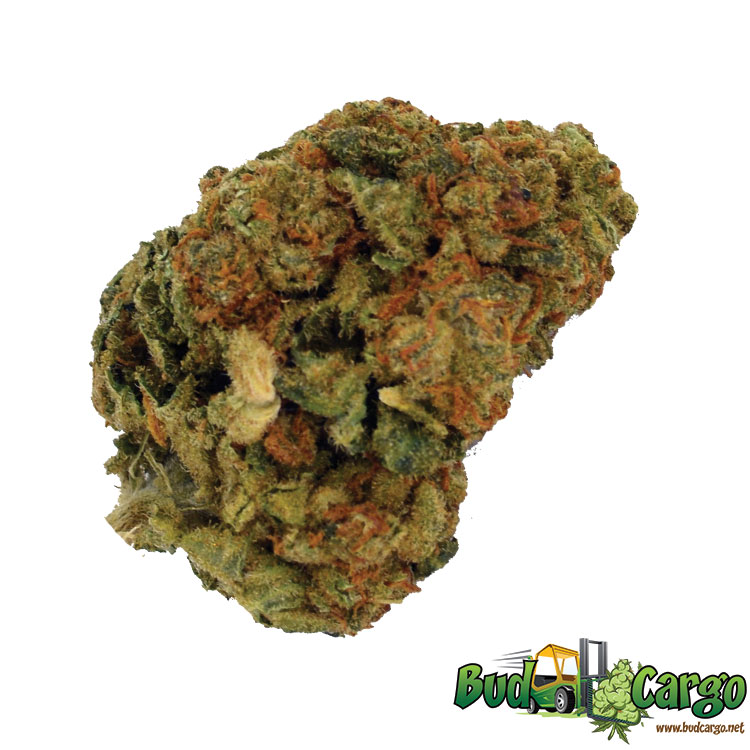 Pineapple Express
Pineapple Express is a Sativa dominant strain with a 60:40 sativa/indica ratio. The strain is quite popular and has achieved recognition thanks to the stoner film of the same name. However, you have to keep in mind that the strain is not as intense as the movie has made it out to be. But Pineapple Express still manages to offer a mild and nice body-numbing buzz, which is something to look forward to.
The strain is offered in the form of well-weighed nuggets that look like Styrofoam popcorn. It does not taste sweet, but it does smell funky with its citrus overtones. The taste is quite extraordinary with a hint of pineapple while you inhale. Pineapple Express is chosen to treat a lot of medical problems including anxiety and stress. However, it is even more effective at curing the symptoms of chronic depression at the same time. If you are suffering from mild pains and aches, you should look no further. After a smoke, you will realize Pineapple Express is calming and stimulating at the same time. Not only will it heighten all your senses but you will feel energized all the while observing an increase in focus, awareness and creativity.
&nbsp
Estimated Delivery:&nbsp
Dec 10 Dec 14
&nbsp
people
are viewing this right now
Description
Made famous through the infamous stoner movie, Pineapple Express is a sativa-dominant that is perfect for a clear-headed daytime high. Unlike the film suggests, Pineapple Express is notably more mellow than crazy and hectic.
Nonetheless, Pineapple Express is still all the tropical sensation both its name and reputation suggest. The strain provides a potent and long-lasting and enjoyable high, and is most notable for its lightness and easiness to navigate.
Crossed by blending a high grade Hawaiian strain with Trainwreck, Pineapple Express turned out a smooth, energizing hybrid. It's international fandom is well-deserved. The strain is a reliable tropical delight, without the heavy body high.
Its parentage guarantees a strong a solid high, allowing you to stay in the clear, while enjoying a long-lasting creative surge. This means Pineapple Express has quickly become a favorite among those looking for an inspired afternoon of creating and a full-on focused cerebral experience.
A guaranteed feeling of happiness will creep in on you when you smoke Pineapple Express. Unlike what its namesake film suggests, there is nothing extreme about this strain.
Pineapple Express is a smooth criminal, that will leave you feeling joyous and uplifted, and ready to go about a full day with much gusto. You will feel a sense of euphoria and a boost of energy from this popular strain. It is a definite mood-lifter, often leading creative types to come up with exceptional and unexpected ideas.
Pineapple Express has the ability to relax you without making you feel sleepy or tired, makes it the perfect daytime toke. It will keep you in a blissful mood, with a bit of daydreaming and laughter to keep you on your toes.
One of the reasons why Pineapple Express is so popular, is because of its distinct pineapple aroma. This is very noticeable especially in tight settings so you might want to watch out for your neighbors if they can be slightly nosy.
Pineapple Express boasts of certain earthy-fresh fruity smell that is wildly invigorating and appetizing. It does justice to its name by truly representing the famed pineapple scent that embodies its Hawaiian heritage.
Staying true to all things pineapple, this strain tastes much like it smells. Pineapple Express has a cedar and pine flavor to it, mixed with a sweet tropical vibe. It is said that it leaves a bit of sugary aftertaste in your mouth, reminiscent of fresh mangoes and of course – pineapples.
While there are many other strains that can out-do Pineapple Express in terms of potency, this strain maintains its popularity by being one of the tastiest varieties available on the international market. Its flavor is renowned for being unique, and largely unrivaled by its peers.
One of the reasons why Pineapple Express is an ideal strain to be prescribed to those in need of medical relief, is because it is a balanced sativa-dominant strain. It heals without creating heavy side effects.
Among the many medical conditions Pineapple Express is able to ease, stress-control is quite likely to be the one it is most popular for. It's ability to calm down the nerves without slowing down the mind in a heavy manner, makes it an effective stress-buster.
The strain is proven to be quite useful in combating other mood-disorders such as depression and anxiety, but is also a powerful pain reliever. Those who suffer from debilitating and chronic pains will benefit from the use of Pineapple Express, often being able to do day-to-day activities that they have not been able to do due to the extreme pains.
Refer a Friend
Please register to get your referral link.
Referral Program
For each friend you invite, we will send you a coupon code worth $25 that you can use to purchase or get a discount on any product on our site. Plus your friend will get $25 OFF coupon automatically applied to their cart if they visit our site via your referral link. Get started now, by sharing your referral link with your friends.
Your Referral URL:
https://budcargo.net/product/pineapple-express-2/
Click to copy