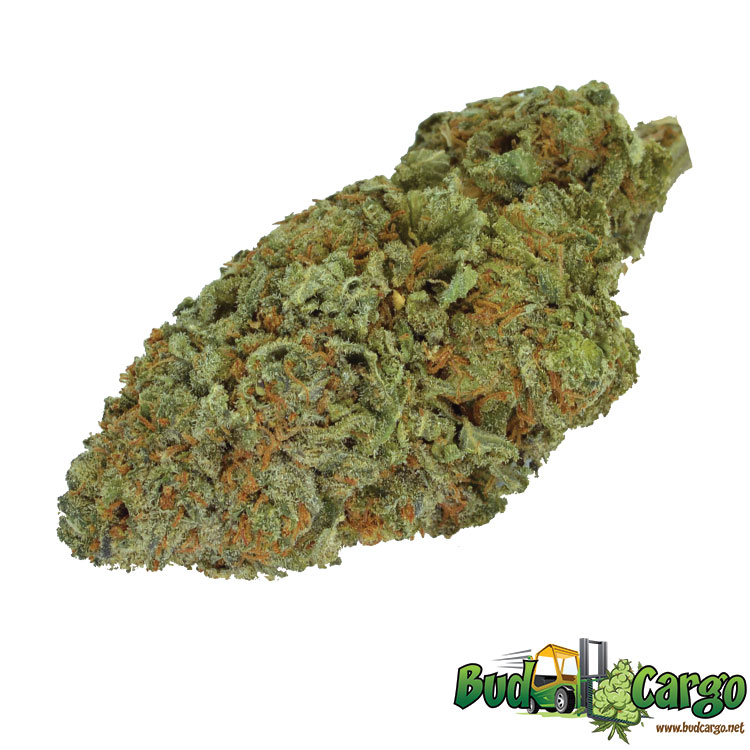 Magic Melon
Magic Melon is a slightly sativa dominant hybrid strain (60% sativa/40% indica) created through crossing the infamous Mango Trees X Honeydew Melon X Mango Sherbet strains. Love a great fruity flavor and a well-balanced high? Look no further than Magic Melon. This lovely lady brings on the sweet fruity flavors, mixing ripe melon with sweet tropical mango and berries.
The aroma takes a turn for the pungent, with a notable punch of gassiness to it. The Magic Melon high leans more towards the bright side of things, with full-bodied and energizing effects that are great for a lazy afternoon spent relaxing with friends or hitting the great outdoors. You'll feel lifted with a lightly tingly effect in the back of the brain that fills you with a sense of tranquil euphoria, pushing out any negative or racing thoughts.
A physical energy accompanies this giggly lift, getting you moving and keeping you active for hours on end. Thanks to these effects and its high 15-25% average THC level and 1-2% CBD level, Magic Melon is often chosen to treat those suffering from conditions such as chronic stress, glaucoma or eye pressure, chronic fatigue, migraines or headaches and depression.
This bud has oversized and super heavy minty green nugs with long thin light orange hairs and a coating of tiny milky white crystal trichomes.
&nbsp
Estimated Delivery:&nbsp
Dec 11 Dec 15
&nbsp
people
are viewing this right now
Description
There is no doubt that Humboldt Seed Company has made their hometown of Humboldt County, California, proud with this delectable strain.
The Magic Melon strain boasts an impressive genetic lineage, robust terpene profile, exceptional growth patterns, and desirable THC content, checking all the right boxes.
Development of the strain began by cross-breeding Mango Trees and Honeydew Melon.
Though this is already a match made in heaven, Humboldt Seed Company then took it further, crossing the Mango Trees/Honeydew Melon hybrid with Mango Sherbet.
The final product was the extraordinary offspring that came to be named Magic Melon.
It's clear a lot of thought went into creating this strain, so it comes as no surprise it was chosen as the winning strain selection from the 2018 Humboldt Seed Company's K Phenotype Mega Hunt.
This hybrid has a 60:40 sativa dominance with a THC content starting at a modest 15% and reaching heights of up to 25%.
The CBD level averages around 1%-2% and has a terpene profile containing caryophyllene, myrcene, and linalool. Other terpenes included in the makeup are limonene, pinene, and linalool.
Overall, Magic Melon offers an uplifted and energizing high that settles comfortably into the mind and body to create a balanced and enjoyable stone ideal for afternoon use.
Both seasoned consumers and newcomers will enjoy Magic Melon for its delicious flavors, therapeutic properties, and pleasant high.
Think Jack and The Beanstalk – a giant stalk stands before you, and though it doesn't seem like much at first, the experience of a lifetime awaits.
This metaphor encapsulates the journey that is the Magic Melon high. Potent, long-lasting, and unforgettable – but it's a slow and steady climb to get there.
A tingly euphoria creeps into the body the higher you climb, and once you reach the top, you'll find that euphoria has overtaken your mind as well.
You'll rediscover your passion for life as creativity, focus, and motivation replace negative and racing thoughts.
Though you'll feel increased energy, you won't be bouncing off the walls. Instead, you'll feel calm, happy, and internally at peace.
You'll become more talkative, introspective, and giggly, making this a great strain to pull out among friends.
This uplifted, energizing high works well in both mind and body, offering relief from various ailments.
As the body becomes more comfortable and relaxed, you'll feel free of the pain that held you back. Magic Melon may also be useful for glaucoma, migraines, and headaches.
s it too on the nose to say this one smells like fruit? Maybe. But there is no better way to describe it. It embodies the aroma of a tropical paradise, delivering an array of exotic, fruity notes with just a hit of pungency.
A swirl of watermelon, cantaloupe, mango, berries, and sweet honeydew melon hit the nose first, followed by striking notes of gas and diesel. It'll have you drooling at the mouth, eager for a taste.
As the name suggests, Magic Melon bursts with fresh, fruity flavors. Honeydew melon, tropical mango, zesty citrus, and exotic berries create the main flavor profile.
This combination of sweet and sour elements rolls across the taste buds to entice the senses and get the mouth-watering for more. It perfectly hits the mark between sickly sweet and overly bitter, culminating in a delicious offering you and your friends are sure to enjoy.
For more strains, please check out all our flowers.
Refer a Friend
Please register to get your referral link.
Referral Program
For each friend you invite, we will send you a coupon code worth $25 that you can use to purchase or get a discount on any product on our site. Plus your friend will get $25 OFF coupon automatically applied to their cart if they visit our site via your referral link. Get started now, by sharing your referral link with your friends.
Your Referral URL:
https://budcargo.net/product/magic-melon/
Click to copy