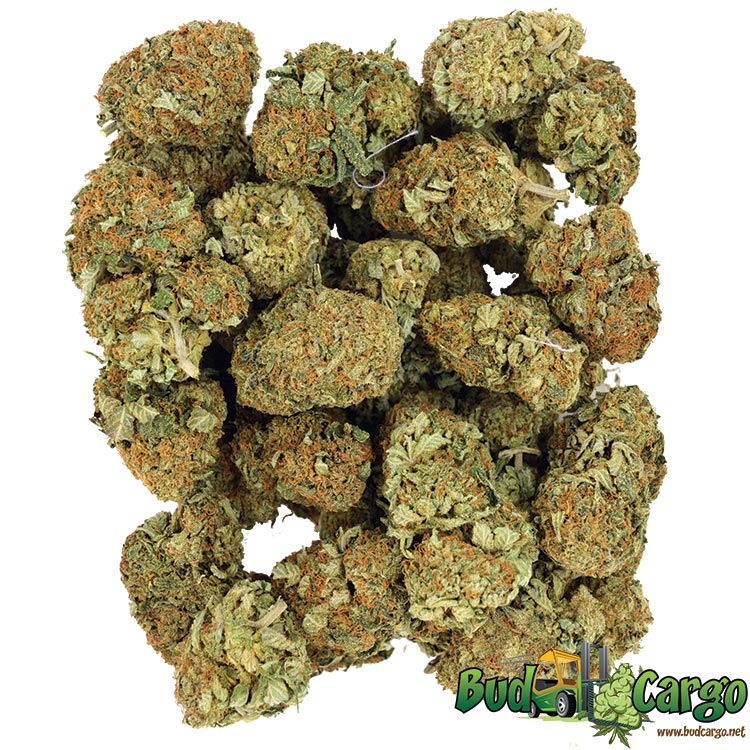 Pink Bubba – Wholesale


Pink Bubba is a Kush-descended strain that leans toward the indica end of the spectrum. This hybrid is a cross between Pink Kush and the popular Bubba Kush and offers consumers a dank, earthy aroma alongside extremely sedative effects. Pink Bubba's THC content has been measured at between 18% and 23%.
Trimmed flowers of Pink Bubba are distinguished by a medium to large size and a chunky, roughly spherical shape. They adhere in pebbly clusters that maintain a compact internal bud structure. The flowers' relatively small leaves are a bright yellowish green and are twisted through with dark, rust-colored pistils. Finally, icy white trichomes cover all visible surfaces of these dense flowers, making them very sticky.
&nbsp
Estimated Delivery:&nbsp
Sep 25 Sep 29
&nbsp
people
are viewing this right now
Description
Buy Pink Bubba – Wholesale
Pink Bubba's reputation continues to be on the rise. It is not only powerful, but also pharmacologically valuable – boasting up to 2% CBD. It is best reserved for the evenings though. Its heavily relaxing head and body high might interfere with one's plans for the day.
Rather than overwhelming enthusiast almost immediately, its onset creeps in around 15 minutes later with a soothing euphoria that takes the mind to paradise. The feeling of supreme bliss makes users smile from ear to ear. It inspires a happiness from within. So much so that it seems one is shines bright like the sun.
Although, it may be better to prepare some snacks ahead of time as the gentle mental effects does stimulate the appetite. Without food nearby, it would be too late to grab a bite once the heavy-hitting effects take over.
A dream-like haze follows suit as users experience the impressive Indica effects of Pink Bubba. It starts at the temples as a light pressure that gradually intensifies with each toke. Pretty soon, the body succumbs to the bud's totally tranquilizing high until finally a heaviness sets in the limbs. Fighting the urge to sleep becomes difficult until eventually users doze off to dreamland.
As alluded to earlier, Pink Bubba is a slow starter. As such, the best way to consume it is to start with a low dosage and slow building it up.
Even before opening a bag of Pink Bubba is opened, the pungent scent of wet soil is apparent. It is accentuated by woody notes of pine as well as a subtle floral tinge which further intensify once the buds are broken apart or combusted.
In the palate, Pink Bubba tastes a little sweeter and more floral. Overtones of wet soil and wood wash over the mouth as its delicious smoke is savored. Meanwhile, on the exhale, it leaves the refreshing aftertaste of pine which lingers even after the last puff.
Presumably, Pink Bubba was developed for the recreational community. Still, it remains a valuable strain to medical marijuana users for the beneficial effects its cannabinoids bring. In inducing its mood-enhancing high, for example, it reduces stress which can lead to the early onset depression if left unattended. Apart from uplifting spirits, it also calms the mind of turbulent emotions brought about by overwhelming anxiety.
The same stimulating compound also has analgesic properties that ease pain caused by spasms. In fact, in relaxing the stomach of sudden contractions or hunger pangs, Pink Bubba stimulates the appetite so users suffering from anorexia or those with cachexia can dig into a meal without feeling like vomiting.
Refer a Friend
Please register to get your referral link.
Referral Program
For each friend you invite, we will send you a coupon code worth $25 that you can use to purchase or get a discount on any product on our site. Plus your friend will get $25 OFF coupon automatically applied to their cart if they visit our site via your referral link. Get started now, by sharing your referral link with your friends.
Your Referral URL:
https://budcargo.net/product/pink-bubba-wholesale/
Click to copy